When I bought my iMac last year Apple was running a special that included a free printer after rebate. I chose the HP Photosmart C4480 All-in-One (print, copy, scan) ink jet model. When I moved to my new place I had a lot less room so I gave away my Brother laser MFC and my Epson ink jet photo printer and now only have the HP. It is nice enough as inexpensive ink jets go but one thing I miss from more expensive models is duplex printing (printing on both sides of the page). So this is a note to myself about the procedure for manually duplexing a landscape printout.
Note this example is printing from Adobe Acrobat Reader.
Step 1: Print Odd Pages
The print options should look like: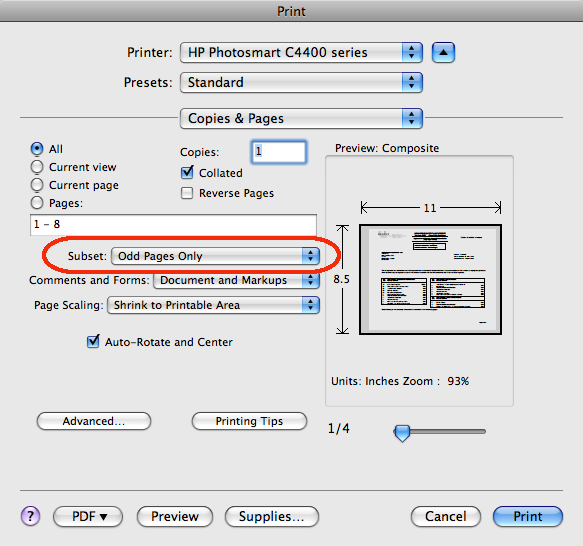 Step 2: Re-insert Paper

Take the paper from the top part of the print tray and put it back in the bottom section where it will be used to print on the other side. If you want the landscape print to "flip up" then rotate 180 degrees before re-inserting. Don't flip it over, just rotate it, the pages that were just printed should have the printed side facing up.
Step 3: Print Even Pages, Reversed
Now print the even numbered pages in reverse order. Here are the options: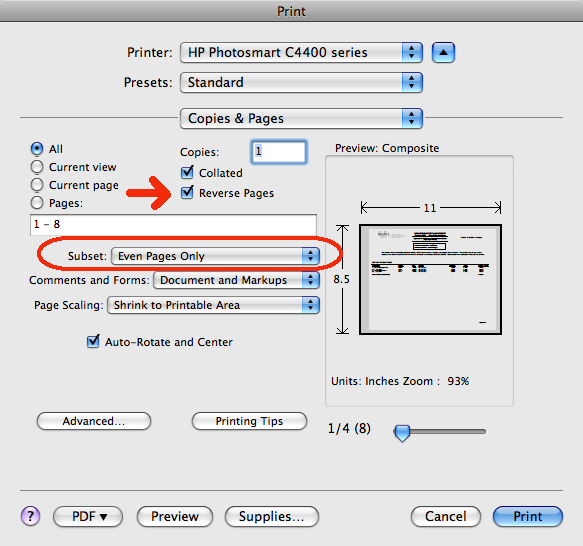 So there it is, you should have a nice document printed on both sides. I do use ink jet specific paper which is pretty thick and has no problem printing on both sides. Be careful if you are using thinner paper such as that typically used for copiers or laser printers.